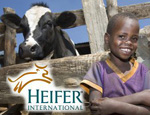 Veterinary Medicine for Camelids
I'll be honest with you. Being a veterinarian to Camelids was not high on my list of professional goals when I moved to Nevada. Then I met Jeanette Miller and Kay Rodriguez, two charming and persistent alpaca breeders who each live within 5 miles of my office and who manage alpaca herds of over 50 animals apiece. They weren't too interested in hearing about the Reno horse vet down the street, but they certainly were ready to reel me in as their new alpaca guru-in-training. Thirteen years later I guess you could say I've acquired a certain amount of experience treating these rather endearing, and often professionally challenging, creatures.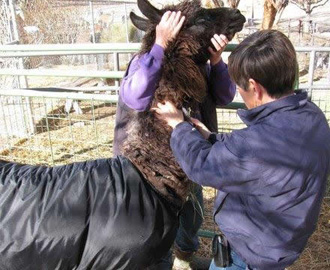 Camelids (llamas and alpacas in my area) are animals with generally excellent health. They also are notoriously stoic, that is to say they don't complain much outwardly when things are out of balance internally. Combine these two characteristics and you end up with animals which frequently are critically ill before they demonstrate serious clinical signs pertaining to their disease. This lack of obvious clinical disease manifestations makes them a real diagnostic challenge for the veterinarian. Thanks to people like Jeanette and Kay, I have had the opportunity to attend several continuing education seminars on camelid medicine, as well as having arrived in Nevada with a strong experience base in camelid internal medicine from my years practicing at the University of Georgia. All of the camelid owners and breeders I've met here have been extremely appreciative of the veterinary care I've been able to offer, and over the years I've acquired quite an experience base in camelid medicine, surgery, and reproduction. So, if you are an experienced or fledgling camelid owner, please feel free to contact our office if you are looking for veterinary care for your alpacas or llamas.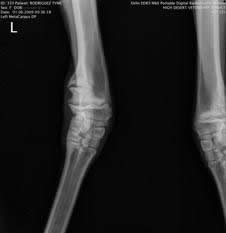 Tyme's Xray
Just a few of the Camelid procedures Dr. C is always ready to perform:

-Microchip Placement
-Dentistry
-Venipuncture for blood analysis
-BVD, DNA registration, IgG, progesterone
-Newborn Cria Check
-Plasma Transfusion
-Problem Breeder Evaluation
-Palpation
-Ultrasound
-Uterine Lavage
-Vaginoscopy
-Uterine Culture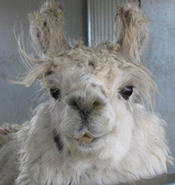 Emergency Vet
(775) 742-2823
Email us at
hidvet@gmail.com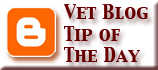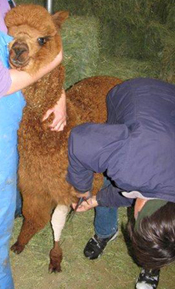 ABOVE--Dr. C performing the first post-operative bandage change on Tyme, a 7 month old cria just back from surgery performed by Dr. Erika Little to correct a severe angular limb deformity. Dr. Collatos performed an initial evaluation of this cria, at which time these radiographs were obtained. She then consulted with Dr. Huber, a surgeon at Oregon State University who has a great deal of experience treating this condition. Dr. Huber, in turn, shared his recommendations for treatment with Dr. Little at Great Basin Equine in Minden. After the three veterinary heads spent some time together, Kay Rodriguez transported Tyme to Great Basin where she underwent surgery in which Dr. Little applied a plate to one side of the abnormally growing bone to reduce growth, while removing a wedge of constricting bone from the other side to allow compensatory growth. Tyme returned home from the hospital the following day for follow up care with Dr. Collatos. This type of interaction among veterinary specialists is what keeps the quality of medicine we offer at High Desert Veterinary Service cutting edge.